How Much Will Bronco Hardtop Cost?
Aug 21, 2023
Known for its rugged charm and iconic off-road capabilities, the Bronco's modern reincarnation had enthusiasts on the edge of their seats, ever since it was announced that Ford is bringing back the legendary off-roader.
Now, the spotlight shifts to the hardtop variant – a blend of retro design cues and modern functionality, the hardtop Bronco allows you to enjoy an open-top experience when you want it while also giving you the comforts of a true hardtop SUV.
In this article, we'll break down the numbers and see if this off-road beast matches your budget. So, how much will Bronco hardtop Cost?
How Much Will Bronco Hardtop Cost?
Since the hardtop Bronco has been ravaged by production delays, many people instead opted for the soft top as this was the way how one could get the Bronco faster.
However, those that want to change their soft tops for a hardtop will have to pay around $7,000 for three separate hardtop pieces.
If this is too much for you, there are a few aftermarket companies out there that sell their hardtop versions for around $5,000 for basic one-piece designs and around $5,000 to $6,000 for a three-piece modular design.
Ford Bronco Hardtop vs Soft Top
The hardtop, as mentioned, has had a fair share of issues because it got delayed multiple times and was also subjected to many quality control issues.
Even so, the hardtop is often favored for its durability and added insulation, providing an extra layer of security and noise reduction. It's the go-to for those prioritizing a more robust feel, as well as year-round protection against the elements.
The hardtop's rigid structure ensures a longer lifespan, making it a popular choice for both daily drivers and off-road enthusiasts, in theory at least.
On the other hand, the soft top offers unmatched versatility and is arguably the better choice if you leave in sunny states such as California and you love an open-top experience. With its easy-to-operate mechanism, the soft top is lighter and you can put it down in a matter of minutes
However, it might require more frequent maintenance and may not provide the same level of insulation as its hardtop counterpart. In conclusion, while the hard top offers strength and longevity, the soft top brings adaptability and a sense of freedom. So, the choice is up to you.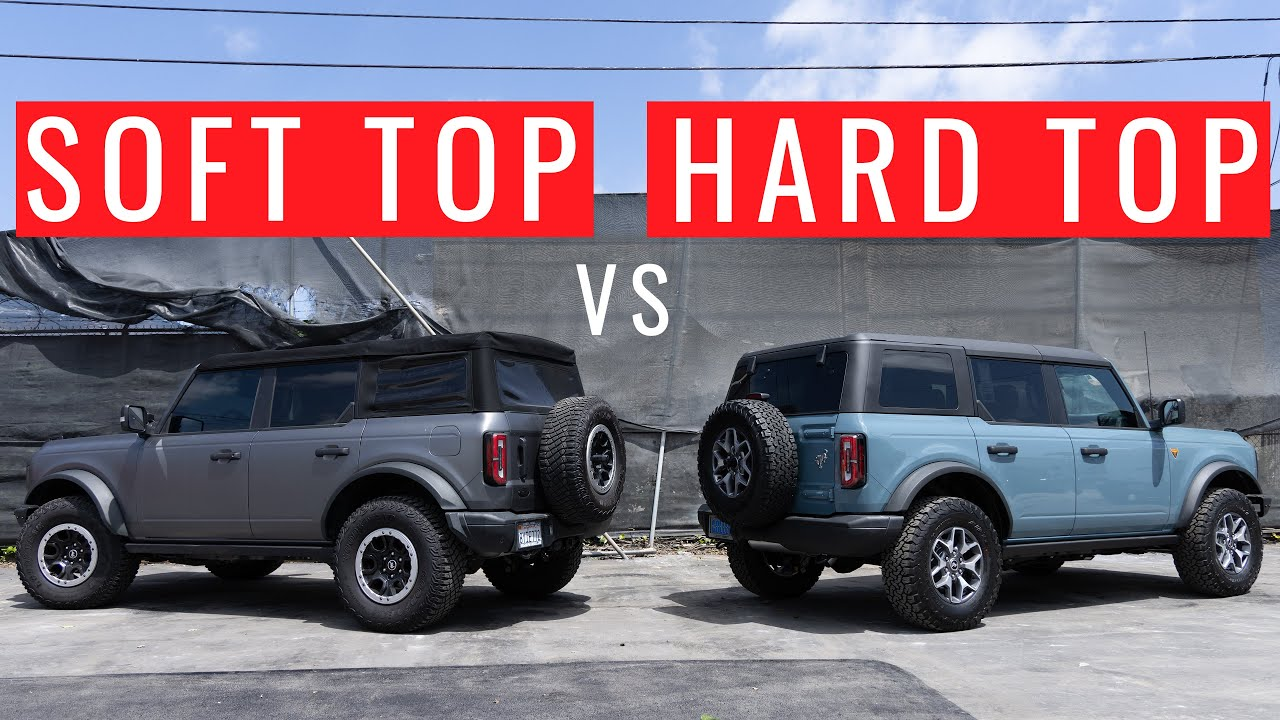 Should I Buy an Aftermarket Bronco Hardtop?
Since Ford is still experiencing a bunch of issues with its hardtop roof, it is actually a really good idea to consider going for an aftermarket version, one you can happily find in our store.
The benefit of buying an aftermarket hardtop version is that it offers you more flexibility with the design. Some prefer a more modular design that allows them to fully remove the roof or to just remove one or two pieces of it.
Others prefer a one-piece design as it is much easier to handle, costs less money, and insulates your interior even better. It does not really make too much sense paying sometimes even upwards of $7,000 for an OEM Ford Bronco hardtop roof that obviously is still a bit questionable.
How Long is the Wait for a Hardtop Bronco in 2023?
Last year Ford came out and said that all hardtop builds are going to be delayed until 2023 which means that there is quite a bit of a crown lining up to finally get their hands on the hardtop version of the Bronco.
Now, the wait time for a hardtop Ford Bronco in 2023 is a bit of a mystery since the demand seems to have softened a little bit. However, if you order your hardtop Bronco today, you aren't likely to take delivery before 2024.
On the other hand, if you manage to find a hardtop Bronco sitting in a dealership, you can get it right away, but be prepared to pay dealership markups and other potential mystery fees