What is the Fastest Bronco?
Apr 11, 2023
The Ford Bronco has been an iconic SUV since its introduction in 1965, known for its off-road capabilities and rugged design. Over the years, the Bronco has undergone several changes and upgrades to keep up with the ever-evolving automotive industry.
Even though top speed isn't the top priority for a Bronco owner, but one can't help but wonder what is the fastest Bronco? In this article, we'll explore the different models of the new Ford Bronco and compare their top speeds to determine which one is the fastest.
What is the Fastest Bronco?
There is insufficient data to say which Bronco model is the fastest, but it seems like the new Ford Bronco Raptor with it's EcoBoost V6 is the quickest one of line as it needs around 5.6 seconds to reach 60mph from a standstill.
Top speed is an even greater mystery, but most sources believe that the aforementioned Raptor takes the cake here as well as it can reach speeds exceeding 120mph if equipped with suitable rubber.
Ford Bronco Acceleration Times Chart
| | | | | | |
| --- | --- | --- | --- | --- | --- |
| Trim/Model | Drivetrain | Transmission | ¼ Mile | 0-60mph | Source |
| 2022 Badlands 4-door (Sasquatch) | 4x4 | 7M | 15.9 sec @ 84mph | 7.4 s | Car and Driver |
| 2022 Everglades 4-door | 4x4 | 10A | 15.7 sec @ 85mph | 7.1 s | Car and Driver |
| 2022 Raptor 4-door | 4x4 | 10A | 14.4 sec @ 94mph | 5.6 s | Car and Driver |
| 2022 Raptor 4-door (Advanced) | 4x4 | 10A | 14.9 sec @ 91mph | 6.2 s | Motor Trend |
| 2021 Badlands 2-door | 4x4 | 7M | 15.8 sec @ 86.4mph | 7.7 s | Motor Trend |
| 2021 Black Diamond 2-door (Advanced) | 4x4 | 7M | 15.5 sec @ 88mph | 7.0 s | Car and Driver |
| 2021 First Edition 2-door (Sasquatch) | 4x4 | 10A | 15.0 sec @ 91mph | 6.3 s | Car and Driver |
| 2021 Wildtrak 4-door | 4x4 | 10A | 15.0 sec @ 92mph | 6.2 s | Car and Driver |
What Is the Fastest Tuned Bronco?
The fastest tuned Ford Bronco is the Hennessey VelociRaptor Bronco. Hennessey Performance Engineering, a company known for modifying vehicles, offers several performance upgrades for the Ford Bronco, including the VelociRaptor package.
The VelociRaptor package for the 2021 Ford Bronco includes a tuned 2.7-liter V6 EcoBoost engine that produces 405 horsepower and 503 lb-ft of torque, which is a significant increase from the stock 2.7-liter V6 engine's 310 horsepower and 400 lb-ft of torque.
The VelociRaptor Bronco is capable of accelerating from 0 to 60 mph in just 4.9 seconds, making it one of the fastest Broncos available.
However, some other companies such as SVT Performance claim to be able to push the Raptor to over 500hp, but no independent tests have been carried out at this time.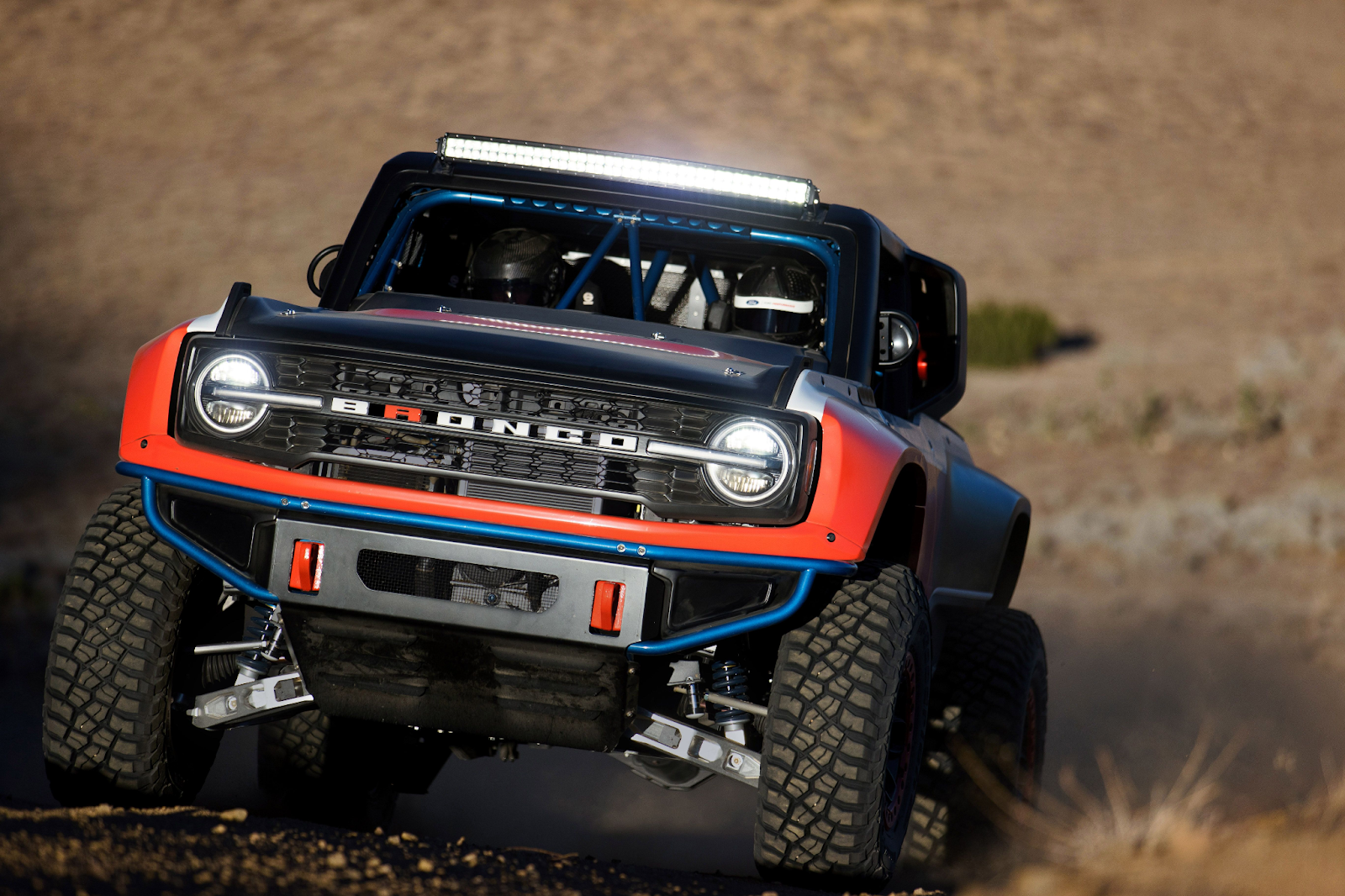 The upcoming limited-edition Ford Bronco DR features the tried and tested Coyote V8 engine with more than 400hp (no exact numbers yet) which may not seem different enough from existing Bronco models.
However, the main benefit of the DR is that it is designed to be lightweight and tuned for speed and racing. This means that it won't feature all the regular off-roading features which often aren't the best for quick acceleration and top speed.
Granted, the DR is designed for, as the name might suggest, desert racing which means that it should be able to cater toward those who like quick cars and those who love off-roaders.
Given the fact that most 5.0L Coyote models offer 460hp from factory, and the fact that the Coyote can withstand up to 750hp, the DR will be able to make serious power, both stock and tuned.