What Size Wheels Come on Bronco?
Apr 17, 2023
Whether you're a proud owner of a Bronco or someone who's considering purchasing one, having a good understanding of the different wheel sizes and their characteristics can make all the difference when it comes to performance, style, and safety.
In this blog, we'll explore the different wheel sizes available for the Bronco and discuss their advantages and disadvantages, so you can make an informed decision that suits your needs and preferences. So, what size wheels come on Bronco?
What Size Wheels Come on Bronco?
The standard wheel size for the base model Bronco is 16 inches, while the higher trims and packages come with larger sizes.
The Big Bend, the Badlands, the Raptor, and Black Diamond trims both come with 17-inch wheels, while the Outer Banks trim comes with 18-inch wheels. The Wildtrak trim comes with the largest wheels, measuring 17 inches by 8.5 inches with a 35-inch tire option.
Which Bronco Wheel Size Should I Go For?
The appropriate wheel size for your Bronco depends on a few factors, including your driving needs, preferences, and the specific model of your Bronco.
16-inch Wheels
With a smaller wheel size, you'll have more tire sidewall, which can improve off-road performance by providing more cushion and allowing for better traction on uneven surfaces. Your wheels and tires are also likely going to cost less compared to 17-inch and 18-inch wheels.
On the downside, the selection of 16-inch wheels is not as expansive as with 17 and 18-inch wheels and a big tire sidewall is going to make your Bronco not as agile.
17-inch Wheels
Almost all Bronco models (except Base Bronco and Outer Banks) come with 17-inch wheels as 17-inch wheels are not as uncomfortable or expensive as 18-inch wheels while also being more dynamic than 16-inch wheels.
18-inch Wheels
At the top end of the spectrum is the 18-inch wheel offered only on the Outer Banks Bronco trim. These are mostly street-oriented wheels and tires which is why they come on the Outer Banks model.
Therefore, an 18-inch wheel is a way to go if you want a more responsive, more road-compliant Bronco, but not if you want the added off-road durability a 17-inch tire offers.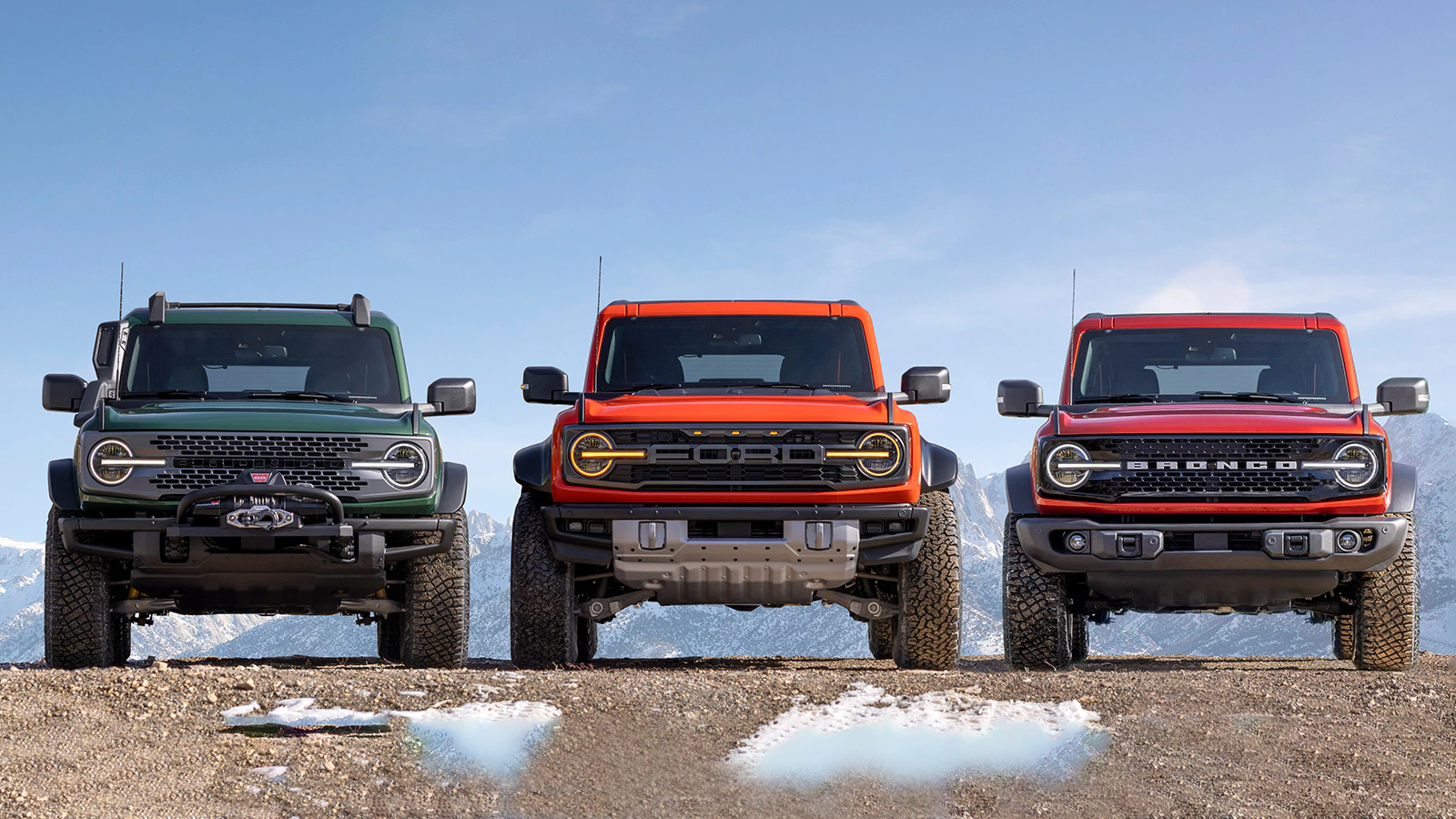 Ford Bronco Wheel and Tire Dimensions
Base: P255/70R16 Bridgestone Dueler H/T 685 (All-Season A/S Tires)
Big Bend: P255/75R17 Bridgestone Dueler A/T RH-S (All-Terrain A/T Tires)
Outer Banks: P255/70R18 Bridgestone Dueler A/T RH-S (All-Terrain A/T Tires)
Black Diamond: LT265/70R17 General Grabber A/Tx (All-Terrain A/T Tires)
Badlands: LT285/70R17 BF Goodrich All-Terrain TA KO2 (All-Terrain A/T Tires) LT285/70R17 Goodyear Territory (Mud-Terrain M/T Tires)
Wildtrack, First Edition, Sasquatch: LT315/70R17 Goodyear Territory (Mud-Terrain M/T Tires)
What Is The Largest Tire That Can Fit A Bronco?
The maximum wheel and tire size that can fit on a Ford Bronco will depend on several factors, including the specific year and model of the vehicle, as well as the suspension setup and any modifications that have been made.
As such, for a stock Ford Bronco, the maximum recommended tire size is typically 33 inches in diameter, which is mostly paired with a 15 or 16-inch wheel.
Many people are saying that all Ford Bronco models (including the base Bronco) can actually fit 35-inch tires without any modifications, but if you lift your Bronco up or do similar suspension upgrades, you will be able to fit even larger tires than that.
It's important to note that installing larger tires than recommended by the manufacturer can affect the vehicle's handling, acceleration, and braking, and may also cause rubbing or other clearance issues.
Therefore, it's always a good idea to consult with a qualified mechanic or off-road specialist before making any significant modifications to your vehicle's wheels and tires.