Is the Ford Bronco Safe?
Mar 20, 2023
Buying an off-roader typically means that you are ready to use it for what it was designed to do. A Ford Bronco is primarily an off-roader which means that it is designed to tackle all sorts of challenging terrains without letting you down. Even if a car can take everything you throw at it, having the confidence to explore the car's limits is crucial.
Confidence is highly dependent on how safe a car is. Knowing that you are driving a superiorly safe vehicle gives you the confidence to do what you otherwise wouldn't. So, is the Ford Bronco safe?
Is the Ford Bronco Safe?
Overall, the Ford Bronco is indeed a safe car, but it isn't an industry leader. The Bronco enjoys a good rating as it managed to achieve a top rating in five out of six different categories as per the Insurance Institute for Highway Safety (IIHS).
The reason why the Bronco failed to achieve the Top Safety Pick rating is that it offers marginal headlight technology and only proved to be acceptable in the headrest restraint test.
How Safe is the Ford Bronco?
When you take a look at the IIHS Bronco 2022 testing results, you can immediately see that the Bronco manages to achieve the best results in the crashworthiness segment. All of the frontal crash tests ended up with a stellar A rating while side and roof crash tests have also shown a stellar A rating.
In the crash avoidance & mitigation category, the Bronco also managed to earn a superior grade. All in all, as far as crash protection goes, the Bronco is on-par with the very best cars in its segment, and much better than its main rival, the Jeep Wrangler.
There are two categories where the Bronco failed to deliver superior results. First of all, IIHS rated the headlights with a Marginal rating (possible ratings are Good, Acceptable, Marginal, and Poor). IIHS says that the low beams "do not illuminate the road to a far enough distance on curves,"

Last, but not least, the Bronco also underdelivers when it comes to head restraints. IIHS states "Bronco's seat didn't support the occupant's head and neck well, indicating that occupants may not be protected well enough against whiplash injuries".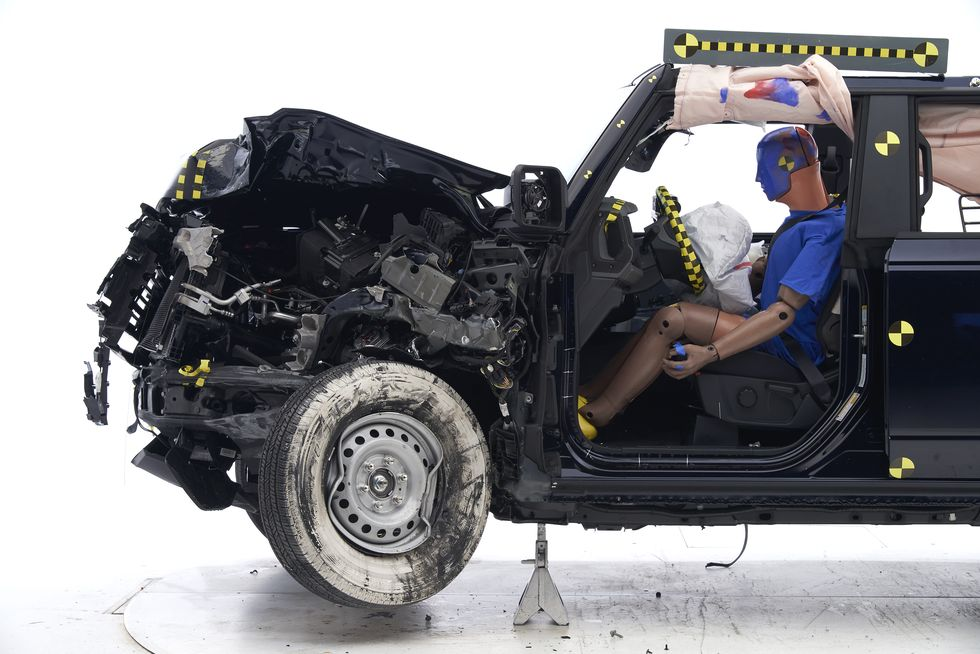 How Safe is the Ford Bronco Sport?
In contrast to the normal Bronco, the Bronco Sport did manage to receive a Top Safety Pick from IIHS. The only category where the Bronco Sport didn't receive a superior rating is the LATCH (lower anchors and tethers for children) category where the rating was deemed to be Acceptable.
IIHS states that the LATCH system "could be confused for other hardware and that it was too deep into the seat to be as easy to use as it could have been".
Which Safety Systems are Available With the Bronco?

The Ford Bronco offers quite a few active safety systems which are designed to make the driving experience safe both on and off-road.
These include
Co-Pilot360 - This is Ford's suite of advanced safety features that comes standard on most Bronco models. It includes features such as automatic emergency braking, lane-departure warning, and a rearview camera.
Adaptive Cruise Control - This system allows you to set a desired speed and distance from the vehicle ahead of you, and the Bronco will automatically adjust its speed to maintain a safe following distance.
Blind Spot Assist - This feature uses sensors to monitor the blind spots on either side of the vehicle and alert you with a warning light if there is a vehicle in your blind spot.
Cross-Traffic Assist - This system uses sensors to detect traffic approaching from either side of the vehicle when you are reversing and will alert you if it detects a potential collision.
Roll Stability Protection - This system uses sensors to detect when the vehicle is in danger of rolling over and will apply the brakes to individual wheels to help prevent a rollover.
Dynamic Hitch Assist - This feature is designed for off-road driving and helps you maintain a consistent speed while navigating over difficult terrain.
Lane-Keep Assist - This system uses cameras to detect when the vehicle is drifting out of its lane and will alert the driver with a visual warning and steering wheel vibration. The system can also apply corrective steering to keep the vehicle centered in its lane.